Glenelg 4 def Southern Districts 2
Its surreal 4 days later sitting here writing this weeks report.  Other than great joy and happiness for the wonderful performance our players put in during the match, but also this season and seasons past has been an overwhelming sense of relief. 
We started this journey five years ago, Jenna Handy & Kelly Qualmann being the remaining holdover's from the year one team I co coached with Aled Loy & Dana Aldwin was part of our other GBC team.  In year two Bianca Smith, Jenny Dunn, Jacqui Dunn, and Adele Munro-Chambers started their GBC journey's.  Year three we progressed to the multiple Division model and we picked up Erin Harris & Alice Prokopec whilst Lucy Mitton joined and started her GBC journey with our Division 2 premiership team.  Then in Year four we add Jess Maslin and this year we rounded out the squad with the arrivals of Izzy Lilburn and Georgia Kaluza.  To have had a core / majority of the playing group be here for such huge parts of the journey, sharing the progression, triumphs and disappointments makes reaching our goal so much sweeter.  See how the newer players have blended into this group, accepted roles and contributed has been very pleasing.
On the night our opponent was fantastic and it took a composed gritty performance up and down our line up to eventually run out winners.  South's pitching challenged our hitters all night – and combined with the challenging wind conditions of west beach they didn't let us play our normal offensive game of baseball.  They were absolutely fantastic in their performance and a wonderful testament to their club and program's development.
As has been the way all season our pitching led from the front.  Bianca Smith 4 & 2/3 innings of 2 run (1 ER) ball before handing the ball over to Alice Prokopec who closed the door with 2 & 1/3 innings of score less relief.
Dana Aldwin with her well deserved grand final MVP recognition with some sterling 1B defence and reaching base on all three occasions – scoring twice.  Jacqui Dunn with her best defensive performance to date being absolutely peppered with ground ball after ground ball at 2B.  Jenny Handy playing hurt to support her teammates and help achieve our goals.  Izzy returning from injury to play a key role in catching the final 2 & 1/3 innings.  Collectively our defence was very good – and ultimately our ability to make the routine plays and then take advantage of a couple of ill timed miscues from our opponents was the difference.  Erin Harris, Lucy Mitton and Jenny Dunn had less defensive opportunities than usual but took care of business when called upon.  Jess Maslin showed her defensive versatility we've called on in the last few rounds playing both catcher and third base and contributing an RBI on the night.
If you haven't yet had the pleasure jump on line and watch either the highlights or the full stream broadcast from the team at SpaceQuake sports.  Our women's premiership team continue to make us proud and secured the first of hopefully multiple GBC premierships for the current season.
Your premiership tigers: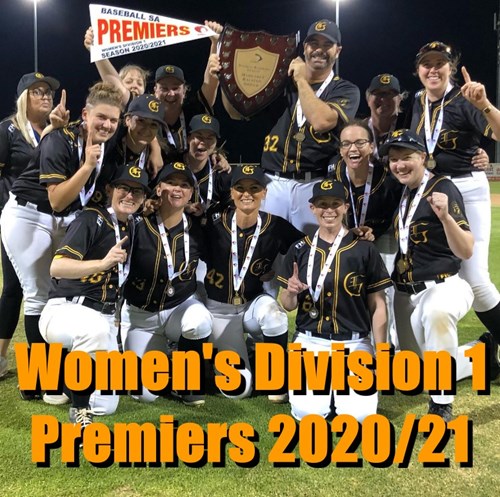 Back Row: Jayden Harris (Team Manager), Kelly Qualmann (Assistant Coach), Jess Maslin, Craig Handy (Head Coach), Adele Munro-Chambers, Georgia Kaluza;
Middle Row: Izzy Lilburn, Bianca Smith, Erin Harris, Jenna Handy, Dana Aldwin
Front Row: Jenny Dunn, Lucy Mitton, Alice Prokopec, Jacqui Dunn
Special mention to Kayla Shipton – Kayla has been a part of the squad the last two seasons and trained with us all season after missing the first third of the year due to injury and missed the grand final due to her new fly in fly out work.